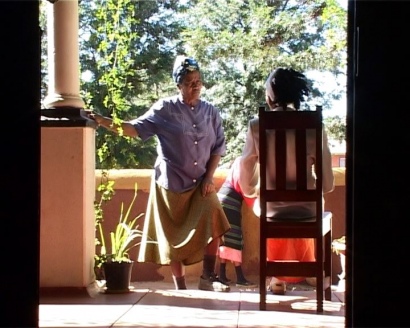 The queen's courtyard
80 min
D / Botswana 2006, Setswana und Englisch mit Dt. und Engl. Untertiteln 

Verleih eva c. heldmann films
video on demand: http://onlinefilm.org/-/film/17904
mit Nnana B. Gaseitsiwe, Mokue Malau, Rodgers K.K. Molefi, Tshadi Mabe, Thomagkosi Mabe, Baratang C. Losiane u.a.
Regie Schnitt Eva C. Heldmann
Kamera Carolyn Macartney, Eva C. Heldmann
Ton Nametso Motsumi
Schnittberatung Katrin Köster, Dennis Couzin
Untertitel Geleki Lebang, Katja Wiederspahn


A personal documentary about the history of a royal family in the unusual African country of Botswana. It takes its perspective from Princess Nnana.
(1) In 2003, King Seatla, the beloved brother of the Princess, died unexpected and mysteriously. The 14-day funeral shows a cross-section of everyday life. The village people are busy with preparations. Cows are slaughtered. Old friends give condolences and the President arrives by helicopter.

(2) The Princess remembers her father, Bathoen II, head of the Bangwaketse tribe. The King was a strict and unreachable father, who got up late at night to work in his office. Before sunrise he ordered his children to clean the house. Then they went to school. The children were happy when they made a trip to the lands, far away from home, to harvest melons, for example.
Bathoen II was a smart and practical visionary who cooperated with the British colonialists, a democrat, and a pioneer of modern Africa. Nnana's great-grandfather King Bathoen I is pictured on the Botswana 100 Pula note.
Nnana's mother, Queen Esther, was an idealistic fighter for racial equality in neighbor South Africa, a concern not shared by her pragmatic father.
The country owes its stability and democracy and wealth to the talents of it's forefathers and to the finding of diamonds. But also its AIDS rate is the highest in the world.

(3) The close friend Tshadi Mabe is the alter ego of the Princess. Both were born and raised in South Africa. Tshadi worked as a maid for European and Asian families, and has strong words for Apartheid. Nnana belonged to a royal and wealthy family, with piano lessons and tennis and fashion, and was almost untouched by Apartheid. Together they celebrate South Africa's Independence Day.

(4) Nnana is an exceptional African woman: never married and childless. She lives alone in the "palace" of her politically disagreeing parents. She endlessly cleans the house and yard, and fights the dust and heat. She lives between past and modern African life, captured in her memories, and now in this film.
Press Comments

"It is an absorbing and fascinating film, made with ingenuity and taste, with an eye for form and colour." MMEGI (Gaborone, Botswana) 9/2005.
"In the residence with a tin roof on columns, the kings of the Bangwaketse ruled. ... Unpretentious, engagingly shot, the film gives rare insight into a strange world." FAZ (Frankfurt, Germany) 2/2006.
Screenings
Festival Frankfurt 2005

and

and other museums in Botswana