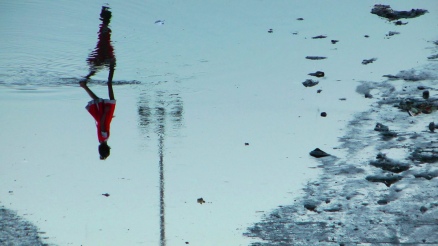 Idee, Kamera, Schnitt: Eva C. Heldmann, Dank an Dennis Couzin
Szenen und Sound from "Orphée" by Jean Cocteau
Festivals: forum expanded Berlinale 2012, Internat. Kurzfilmfestival Oberhausen 2012


A girl is playing with her brother in the dark, holy waters of the Godavari River. I record the pair on video in spring, 2011 in Nashik, India. Orpheus and Heurtbise are crossing Hades in Jean Cocteau's black-and-white film Orphée from 1949.
The materials clash in their difference from one another – the incompatibility of the styles fascinates me, like strangers standing side by side. Using various maneuvers, I place the materials in relation to one another. Formal similarities and parallels emerge, breaking open Orpheus's poetic boundaries and extending the girl's play and perspectives.
"r i v e r r e d" is the second film in Eva Heldmann's river trilogy:
Mississippi/USA - Godavari/India - Tati/Botswana