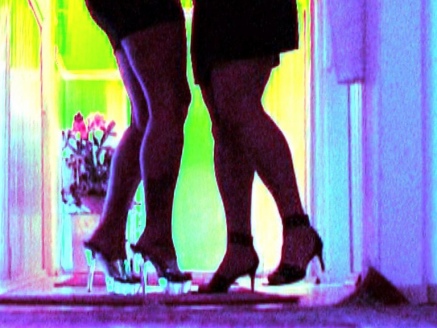 mit Lady Tara, Nadine, Tina, Cindy, John T.
Kamera Rainer Komers
Tontechnik Jens Ludwig
Schnitt Michèle Barbin, Eva C. Heldmann
Künstlerische Beratung Dennis Couzin, Lily Bisilly
Musik Hubert Machnik
Musiktitel "Er ist weg gegangen" von Chiha
(Berberlied aus Tunesien)
Arie der Königin der Nacht, aus "Die Zauberflöte" von W. A. Mozart, Wiener Mozart Orchester
Buch, Regie Eva C. Heldmann
Webseite Lady Tara www.studioenigma.de
Gefördert mit Mitteln der Hessischen Filmförderung


Five Sex Rooms and a Kitchen documents work in a little whore house in Germany: The sex rooms are equipped differently according to the varied needs of the customers: the white (medical) room, the black (S/M) studio, the Greek, the yellow and the blue room.
The kitchen is where the life goes on between the work: waiting, reading, making-up, calls and more calls, chatting and cooking. The hall connects the rooms with the kitchen. Here all the noises mix: the clicking of high heels, the washing machine, the sex in the rooms, the rattles of the pots, the gossip and the clowning.
The film is a platform for the women to voice their views. For example, Lady Tara on herself: "I have had so much sex in my life. It wasn't special. It was nice at the moment. It was interesting too, and altogether wonderful. But there is nothing holy to it. It's simply like drinking coffee with somebody or having a nice conversation. ... To be accurate, I'm also using somebody. What is so holy with a pussy? Or a dick? It's all exaggerated."
And on society: "... exploitation of the girls. It exists, I never denied it. ... Simply, take a prostitute or whore as she is, or leave her as she is. If she is happy, it's fine. And if she is unhappy, the state isn't responsible. Many women are unhappy in marriage. Marriage isn't abolished for this. All over the world there are people who should be protected because they are unable to make clear decisions."
The film indulges in some embellishments to the documentary reality. Colors and motions are wildly processed, especially in the hall scenes. The film reveals the expressive power of shoes. The whores dance a ballet of dominance, artifice, and pleasure.
Festivals
Pornfilmfestival Berlin 2007
and others